---
University Institute Of Hotel And Tourism Management
About University Institute Of Hotel And Tourism Management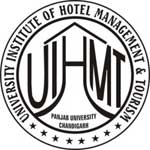 University Institute of Hotel and Tourism Management (UIHTM) aims at becoming one of the premier institutes in the country offering education, training, research and consultancy in the field of hospitality, tourism, travel and allied sectors.

Objectives of UIHMT
To nurture in students professional and managerial excellence, social and cultural sensitivity, moral and ethical responsibility with a conscious concern for the environment.
To create avenues for the promotion of knowledge and foster opportunities for learning.
To undertake collaborations with apex tourism and hospitality bodies/agencies/ organisations both in India and abroad for facilitating the professionalization of hotel management and tourism education; establishing enterprising partnerships with industry, commerce as well as with other institutions that are both mutually beneficial and productive for society.
To develop and sustain world-class, scientific research and foster the values which students need to excel, ensuring that they are fully equipped for the world of work.
To empower students to carve out successful careers for themselves and to connect them with the changing scenario of the economy and its socio- cultural environs.
To render specialized training to undergraduate/graduates/post graduates/industry professionals in tourism and hospitality related subjects.
To meet the growing demand of hospitality, tourism and travel industry for professionally trained manpower.
To undertake educational programmes and to organize courses of studies, lectures, seminars, symposia and conferences etc. on various aspects of hospitality, tourism and travel sector.
To provide continuing educational opportunities and facilities on various aspects of tourism and hospitality industry.
To extend advice/suggestions for promotion and development of tourism in the country.
Mission
Established in 2009, University Institute of Hotel and Tourism Management (UIHTM) is striving hard towards the human resource development with the focus on Hospitality and Tourism sector. Being a specialized institute in sectoral education in the area of tourism and hospitality education, UIHTM had already marked its attendance at national level by organizing various curricular, extracurricular and extension activities during the years. At present UIHMT is running two programs;
Bachelor of Tourism and Travel Management (BTTM)
Bachelor of Hotel Management and Catering Technology (BHMCT)
Vision
To prepare the students for immediate employment in the relevant functional area in industry/take-up entrepreneurship individually. Further nurturing such professionals by providing an overall and extensive exposure of tourism and hospitality industry.
---
Enquiry No(s): 1800-180-2065, +91 172 2534818, 2534866 (from 9:30 am to 1:00 pm & 2:30 pm to 5:00 pm on working days )